Meet Our Staff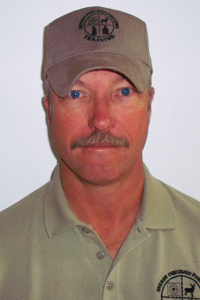 Our Commitment to You...
We strive for achievable goals. Our primary goal is simply to make you a more proficient and confident shooter. No matter which of our training disciplines you choose, you will find the best, most current instruction available. This instruction is provided by a veteran staff with over 35 years of combined experience instructing law enforcement and military.
As a well known U.S. Border Patrol Agent once said, "There is no second place winner in a gunfight." Another famous United States Army officer said, "In their lifetimes most people will never need a gun. Those that do, will need one very badly." Proper firearms training breeds confidence, and confidence is necessary for a winning attitude. Should you ever find yourself in a life-or-death situation, your attitude will be the key factor of your survival. We hope you will never have to use a firearm to defend your life or the life of a loved one but should that situation occur, we do want you to approach it with strength, knowledge, and confidence.
Oregon Precision Firearms Training has a devout belief in the 2nd Amendment and the law abiding citizen's right to keep and bear arms. We also have a strong belief that if you own a firearm for personal defense, hunting, or competitive purposes, you owe it to yourself and those around you to be well trained and proficient in its use. We can give you the skills, proficiency, and knowledge. The rest is up to you.
Come to the beautiful high desert of central Oregon and train with us. We look forward to meeting you!
Our Instructors

HEREOur instructors are highly qualified and experienced. With over 50 years of combined armed service experience, they are among the best in the business.
Among many other qualifications, all of our teachers are NRA certified instructors. Select a trainer on the left to find out more about his credentials.
Mike Herbes
Mike is a founding partner, and the current owner / lead instructor for Oregon Precision Firearms Training LLC. He has spent a life time shooting and re-loading, at times competing in NRA Small Bore, Military Service Rifle, and IPSC. He recently retired from the Army Reserves as a Sergeant Major with most of his 31 years in the 1st Special Forces Regt. Mike also retired from the Oregon Law Enforcement Training Academy (DPSST), where he was the senior training Lieutenant for regional / advanced training. He was responsible for developing and teaching advanced firearms and tactics for agencies around the state, including the 2 week long Firearms Instructor Development Course.
Mike has developed and taught numerous courses to allied nations military and law enforcement units and has been asked to present at International Association of Law Enforcement Firearms Instructor Regional Training Conferences. With numerous deployments, and over 30 years teaching firearms, from youth 4-H shooting clubs to elite military and law enforcement around the world, his experience brings a unique no non-sense approach to your firearms training experience.
Certifications include NRA handgun, Law Enforcement Handgun, Law Enforcement Patrol Rifle, Oregon 4-H Pistol, Oregon Firearms Instructor as well as various others.
Professional memberships include: Patron Member of National Rifle Assn., International Assn. of Law Enforcement Firearms Instructors, Life Member Veterans of Foreign Wars, Life member Special Operations Assn.
Corbin Lantz
Corbin Lantz is a long time shooter who enjoys competition shooting, hunting, reloading and instructing others in firearms training. Corbin started firearms training instruction in 2007 and has developed a reputation as someone who makes firearms training an enjoyable and comfortable experience for everyone.
Currently, Corbin is a Tactical Training Coordinator for the Department of Public Safety Standards and Training (DPSST) where he delivers tactics and scenario training to new police officers in Oregon. Previously, Corbin was employed as a Regional Training Coordinator which included primary duties teaching basic through advanced firearms, tactics, building search, active shooter response and Use of Force training to police officers throughout Oregon. Corbin has also taught private classes focusing on developing skills to new and veteran shooters alike.
Before working as a full-time trainer, Corbin was a police officer for the city of Stayton Police Department and their Rangemaster. During his time there he was in charge of developing and delivering firearms training to other department members including; Pistol, Rifle, Sub-Gun and Shotgun. During this time Corbin also worked part-time as a firearms instructor/rangemaster for DPSST.
Corbin is a NRA certified instructor and also holds instructor certifications from DPSST and Woodburn Police Department as a firearms instructor. Other certifications include DPSST Advanced Police Officer and Supervisory certificates, Force Science Institute and low light instructor. He regularly shoots USPSA, ICORE, Bullseye and military rifle matches and is a member of the NRA, USPSA and IALEFI.
Greg Peterson
Professional
Retired from a 25-year career in law enforcement Greg has turned his attention to the needs of the private sector. Greg's career-long dedication to protecting and serving has uniquely prepared him to provide guidance to those looking to protect themselves, their businesses, and their communities.
Before retiring in 2017, Greg spent 15 years with the Department of Public Safety Standards and Training, first as an Investigator for the Private Security Division for a year and then as the Regional Training Lieutenant serving law enforcement agencies throughout the state of Oregon. In this capacity Greg managed the research, development, delivery and evaluation of regional training programs. During his tenure he instructed active shooter response, emergency vehicle operation, vehicle stops, building search/tactical movement, firearms (handgun and rifle) computer generated use of force (MILO), felony investigations and solo officer response trainings.
Greg's career in law enforcement prior to working for the Department of Public Safety Standards and Training started as a Deputy Sheriff for the Harney County Sheriff's Office and held the position of Emergency Management Coordinator in charge of the Harney County Search and Rescue operations. He then served as Patrolman for the Burns Police Department before he was elected to the position of Harney County Sheriff. As Sheriff, Greg was the chief law enforcement executor and keeper of the peace for the county where he instituted, directed, evaluated and continuously improved a Reserve Deputy Program, Marine Patrol Program, DUII Enforcement Program and a Training Program. He was also responsible for all recruitment, discipline and termination of personnel and prepared and administered annual budgets. After his term as Sheriff. Greg went to work for The Department of Public Safety Standards and Training as a part-time Instructor for emergency vehicle operation and worked full time for Pinkerton Security as a Supervisor at the HP site in Corvallis Oregon. As the Security Supervisor he was responsible for shift scheduling, work assignments, and performance reviews in addition to training, motivating, and mentoring the security officer staff.
Education, Certificates & Training
Associate of Applied Science, Emergency Management
Current Federal Firearms License
State of Oregon Police Certificates (Basic, Intermediate, Advanced, Supervisory, Management, and Execute) formerly held
State of Oregon Private Security License & Certification (Armed Officer, Unarmed Instructor, and Executive Management) formerly held
State of Oregon Emergency Management Professional Development Series
National Sheriff's Association Professional Development Two Week Course
Over 3,500 training hours with the Department of Public Safety Standards and Training
Personal
Greg is well known throughout the law enforcement community because of his dedication and loyalty to his fellow officers. This dedication to them comes second only to his dedication to his family and friends. As a grandfather and avid outdoorsman and sportsman, Greg spends his free time outdoors with his three daughters and five grandchildren whenever possible. Greg is also a Gold Star Father; his son being a Marine killed in the Iraq War in 2007.