2019 Calendar
Defensive Carbine
March 30 & 31, 2019
COSSA Range - Bend, Oregon
* COURSE FULL *


Defensive Pistol
April 6 & 7, 2019
COSSA Range - Bend, Oregon
* COURSE FULL *


Long Range Precision Rifle
June 22 & 23, 2019
COSSA Range - Bend, Oregon
* COURSE FULL *

Long Range Precision Rifle
July 13 & 14, 2019
OPFT Facility - Union, Oregon
* COURSE FULL *

Defensive Carbine
August 3 & 4, 2019
COSSA Range - Bend, Oregon


To register for any of the above courses, view fill out the application form.
---
We also offer private courses to meet your training and scheduling needs. We can bring our courses to your location or a range near you. Contact us to discuss or flexible options!
Precision Rifle
Two Days - 16 Hours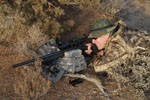 This course will teach you the techniques needed to shoot accurately to 1000 yards and beyond. How to use your optics to either hold over or dial corrections, make adjustments for changing environmental conditions and range. We will develop our "DOPE" from 100 to 500 yards on paper and 600 to 1000 / 1200 yards on steel. Students will be provided a record book and shown a method to record and compare performance through documentation.

The vast majority of this course is spent on the range with brief stints in the classroom. A special emphasis of the training is learning to read the wind and compensating for it. Anemometers are used at various ranges to facilitate the shooters observations.
Out to 1,000 yards...
You will have the opportunity to shoot our steel (both static and reactive) from 600 to 1,000 yards. Upon your witnessed 1,000 yard hit you will become a member of the Oregon Precision Firearms Training 1,000 yard hit club and receive your coveted gold pin.
Training Includes
Equipment selection and set-up
Internal and external ballistics
The effect of temperature, altitude, barometric pressure, humidity, slope and wind
Discussion on correolis effect on extreme range shooting
Emphasis on "reading" the wind through mirage and natural environment factors compared with anemometer
The use of various types of optics are discussed to include – MIL to MIL, MIL to MOA, MOA to MOA
Cost: $350.00
Required items: range clothes to include long pants, ball cap, ballistic eye protection, hearing protection, shooting mat, rifle with scope, 300 rounds ammunition, cleaning equipment.
Additional Recomendations: spotting scope, bi-pod and / or shooting bag (pack), water, snacks, sunscreen, anemometer, thermometer.

Calibers in the .308, .30/06, .300 Win. Mag., .25/06 are fine but please no .50 BMG's or .338's etc. These calibers are simply too hard on our steel. Spire point leaded bullets are OK as are hollow point match style bullets. No metal piercing type ammunition allowed. If you have a question regarding rifle calibers or ammunition, please call us.